The title of the installation, Double Bind, comes from the theory developed by the social anthropologist Gregory Bateson referring to intercommunication between people. It defines an emotionally distressing dilemma in which an individual receives two or more messages that contradict each other.
According to the artist himself, the work explores just how contradictory and deceitful we are in most of what we say to each other and how many misunderstandings are woven into our everyday language and communication.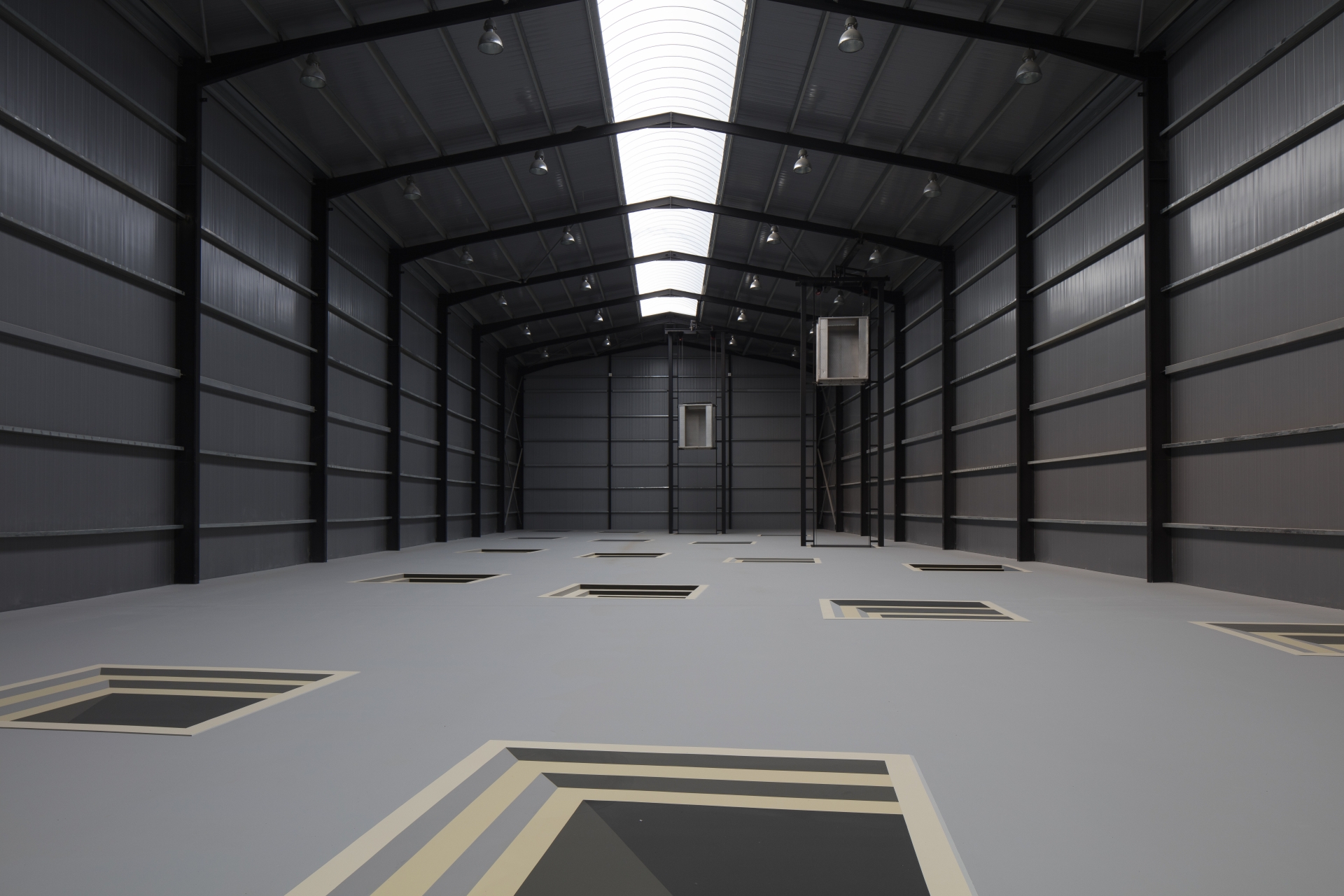 The installation is divided into two spaces. On the top level, the balcony handrail gives visitors a clear view of a patterned floor through which two lifts are raised and lowered in continuous motion. This floor seems to be perforated by a series of large holes, some of which are optical illusions. As we delve into the penumbra of the lower spaces, an intermediate level emerges, inhabited by a series of figures, whose expressions and actions are not clear, just like our own role in their private drama.
Muñoz used quite different sources to make his pieces: literature, theatre, philosophy or architecture, and elements of magic and illusions. Double Bind brings together all these influences and also shows the majority of the concepts that he worked on during his artistic career: reality, the visible and the invisible, identity, space or perspective. All this aims to create a state of psychological tension around spectators, making them question the reality around them.
Just a few months after presenting Double Bind at the Tate Modern, Juan Muñoz died at the age of 48. The work was taken out of the Tate in March 2002 and became his last great work. In 2015, the Pirelli Hangar Bicocca in Milan put on an exhibition, curated by Vicente Todolí, that celebrated Muñoz's career, presenting the Double Bind installation for the first time, among other works. In 2017, PLANTA presented Double Bind, the first time that it had been exhibited in Spain.
Lent to the PLANTA project for a period of five years, Double Bind evokes the humanist nature of the Fundació Sorigué's collection.
This work is owned by the Juan Muñoz estate and was lent to PLANTA for a limited time. This guest work model is a clear example of sustainable practice, given that very technically complex works with extremely specific requirements – space in this case – can be exhibited without having to include the piece in the collection permanently.